The ability to speak (and write) more than our mother tongue has always been a useful social skill, to say the least. People have communicated with 'foreigners' for social, economic and cultural purposes since ancient times and the foreign language skills of scholars have resulted in the world's greatest literary works being translated into an impressive number of languages for the benefit of nations worldwide. The treaties that have changed the course of history could not have been devised and agreed upon but for a common language which helped the parties involved to communicate effectively with each other. Thus, translators and interpreters have had an important contribution to the evolution of humanity.
The technological advances we have been witnessing in all fields of activity have changed the world of translation for the better. The old typewriter has long been replaced by the computer and a series of tools have been created and improved for translators to give more accurate versions of original texts translated into the target language. Computer aided translation – done by experienced professionals who know their onions – not only provides better quality material but also reduces the amount of time spent on the job.
Computer Aided Translation (CAT) tools – word processing software (such as spell checkers and grammar checkers), terminology managers, concordancers, translation memory tools, online tech dictionaries and many more –  considerably improve the translator's experience and lead to a quicker and far better result. However, machine translation – a relatively new and hardly reliable option that non-specialists sometimes turn to – ought not to be mentioned among the everyday tools of a respectable translator. In spite of the brilliant minds that have taken on the difficult task of creating 'intelligent' software to diminish the effort of a translator or to enable every Tom, Dick and Harry to get a translated version of any text, the degree of reliability that these machines provide turns them into a joke in the field of professional translation.
If you want a relevant example of machine translation failure, you should read Bill Bryson's 'Mother Tongue'. The author explains how someone tried translating the well-known saying 'out of sight, out of mind' from English into another European language. The result was later translated back into English and here is exactly what appeared on the screen – 'blind insanity'! While 'out of sight' has probably less to do with 'blind' than 'out of mind' has with 'insanity', we must admit that the machine did a very good job especially because it recognised the two halves of the proverb as two popular collocations. That is definitely a step forward for a 'dumb' machine but not quite what professional translation is about.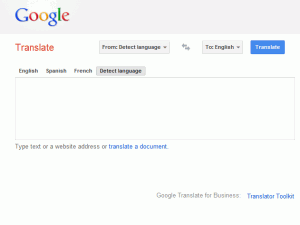 In order to use machine translation effectively, you must know both languages really well; otherwise you will be unable to detect the shortcomings of the software and, consequently, to correct all blunders in order to produce an unambiguous high-quality translation. We all know people who occasionally make use of such software but only on their mobile phones in a casual environment. Most avid users of instant translation software are still 'screenagers' looking for an easy way to do their second or third language homework for school. When it comes to professional translation services, you simply cannot forget that translation implies more than just linking a certain number of words in a row to form sentences, which is, unfortunately, about all that machine translation can do.
As for the CAT tools that seem to be part of every contemporary translator's professional routine, they are meant to help not teach. Thorough language knowledge, ongoing professional development and a sound translation practice are the most important elements that make a good translator.