I can't believe the TLC is over. 🙁 Even harder to believe is that it's been more than 6 months since I was invited to submit my proposal. Where does time fly?
For those of you who did not attend this year's event, I strongly recommend you consider it next year. Some of the reasons why below.
Organisation:
Everything was simply flawless, from booking transport (taxis and buses), accommodation and restaurants, to dinner arrangements, recommending food and places, organising the Warsaw tour, to making sure everyone is on time (very difficult during conferences), that every attendee and speaker is well cared for, that we all feel good and happy. Every single one of the organisers deserves praise and thanks. My special thanks go to Anna Lewoc (who made sure sessions started and ended on time, who responded to each of my many emails and made sure I arrived safe and sound) and to Marta Stelmaszak (more about the amazing Marta later). By the way, ladies, I now KNOW how to correctly say your names.
Venue:
The Sound Garden hotel is by far the best I've been in. The spacious rooms (the single bed was huge), high-speed Internet, excellent Wi-Fi, very friendly and helpful staff, these all make the SG hotel (whose slogan is, so very appropriately, Sounds Good) an excellent choice if you are looking for a hotel in Warsaw. Did I mention it's located 5 minutes away from the Chopin airport?
I stayed on the 6th floor (called the Ladies' floor). On the corridor you could hear relaxing music play (Silence) and there were also two massage chairs that massaged you from scalp to toes – hmmm….
A complimentary bottle of Voda Collagen Beauty water, disposable slippers, fluffy towels, interactive TV, it's clear they care about every small detail. You can see more on their website. I would highly recommend it.
Breakfast is included in the room price and offers a buffet option, which offered enough choices (at least for me, I cannot speak for others who may have allergies or special dietary requirements). Lunch was also buffet style and I was happy with the food offered. I only had dinner there once and had a delicious salmon salad.
Another plus (the organisers' merits): unlimited supplies of good quality coffee, tea and water.
Conference rooms: gorgeous, spacious, well lit.
Conference:
It was great to meet in person so many people I'd met online (via social media or blogs), including translators I had worked with – fantastic feeling! Not to mention meeting new people that I know I will keep in touch with, because we just clicked.
Marta:
I felt she needed a special section, as she an amazing person. I don't think there's anyone in our industry who doesn't know who she is. But one thing you cannot tell from her online presence (yes, you can see she is young, energetic, organised, talented etc.) is her warmth. She is kind, calm and good-hearted. She tried to make sure everyone was well cared for, that we had everything we needed. So, my special, special thanks to Marta.

Sessions:
With so many talks and workshops (40 in total) taking place simultaneously in 3 rooms, it was impossible unfortunately to attend all of them, but I did enjoy the ones I went to and I will try to write about some of them.
Some of the presentations have been uploaded on the website and there are more to come.
One small suggestion would be to record them all so attendees can later see the ones they didn't get the chance to see but wanted to (I think TraduEmprede did that).
FRIDAY
Friday morning kicked off with a Business Groupwork session. Attendees had submitted various questions (there were 6 major topics: ethical dilemmas, business development, direct clients, working with agencies, balancing work and life, buying translations) to be discussed during this session. People gathered at various tables (labelled accordingly) and shared best practices and ideas. I participated in the 'working with agencies' group, since that was also the topic of my presentation. The others at the table were from other agencies, freelancers and translation buyers. Some of the questions discussed were:
How does a translator stand out from the crowd?
How to deal with poorly segmented texts?
Should one charge for formatting (e.g. scans, .pdfs etc.)?
I felt it was a very productive session and learnt a lot from the others.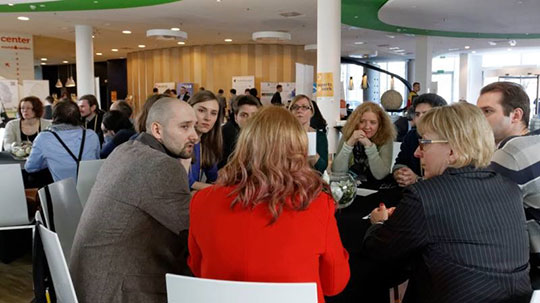 Reading Between the Customer's Lines: Communication and Negotiation – Alessandra Martelli
I really enjoyed Alessandra's session and learnt a lot about types of customers and how to recognise and deal with each of them. She mentioned three main types of clients: the driver, the collaborative and the analytical. One important takeaway: you need to address people, not typologies.
Learn more about Alessandra on her website or follow her on Twitter.
Going Beyond What Clients Want from Interpreters – Jonathan Downie
Jonathan is…. How can I describe him? He's a storm! He's the most energetic person I have met! He's lively, talkative, and, most importantly, very good at what he does. In this presentation, the attendees were lucky enough to be the first ones to hear about some of the results of his PhD studies on client expectations. It was fascinating. Add to this a few stories on lumberjacks and Jonathan's charming Scottish accent, and you'll understand why I loved this session.
You can find him on Twitter and learn more about him and his services via his website.
Working with an Agency – Benefits for Clients and Translators Alike – Alina Cincan
Well, clearly, since this was my presentation, I cannot blow my own horn, right? But, judging by the packed room and the feedback I received (both online and offline), it was a very successful presentation. What I talked about:
Various aspects of working with an agency

How to stand out starting with your first email
CV guidelines
Memberships
Project allocation

Benefits for clients
Benefits for translators
You can find my presentation below (available on SlideShare). If you were among the attendees, I would be really, really grateful if you could also fill in the feedback form (it takes less than 2 minutes). Pretty please? 🙂
Workshop: Public Speaking – Jonathan Downie
As I mentioned earlier, Jonathan is an experienced speaker and interpreter. Since this was my first talk*, I knew I had to attend his workshop. It certainly was hands-on (or feet-on at some point 🙂 ) and has helped me have a more clear idea about how to structure my future presentations.
*Jonathan says my previous teaching experience is cheating and it did help.
Streamlining Your Workflow: Desktop and Mobile Apps for the Interpreting and Translation Industry – Valeria Aliperta
When it comes to apps, Val is definitely the go-to person. I don't think I've met anyone else who knows an app for everything and anything. The motto of her presentation: There's an app for that. And she definitely showed us there is an app for mostly everything. While IOS apps are her speciality, she tried to give alternatives for other systems wherever possible. I already use a couple of apps, but there are definitely more I want to try thanks to Val's recommendations.
I am sure a lot of you are already following Val's Twitter account (@rainylondon) 🙂 You can also have a look at her websites on translation/interpreting and on branding.
Business Advice Drop-In
This was definitely a wonderful session. There were 5 of us on the panel: Tanya Quintieri, Alessandra Martelli (@mtmtranslations), Rose Newell (@lingocode), Sabina Metcalf (@sabina_metcalf) and I (@AlinaCincan).  Marta would ask people if there were any particular things they wanted to ask about and/or discuss and would direct them to one of us. I talked to people about their CVs, applying to work with agencies and how to make the best of this sort of relationship. Since it was one-to-one, I think every participant was happy with the format and outcome. I certainly liked it.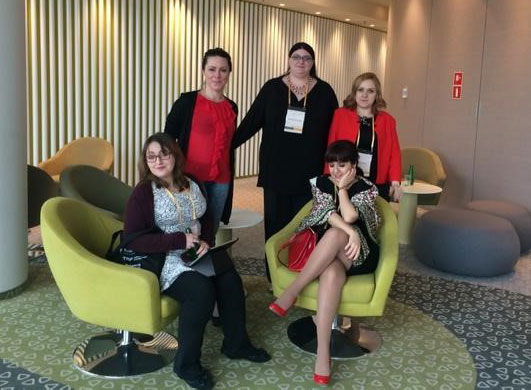 Networking dinner
Our dinner took place at the Honoratka restaurant (which was funny, because I have a Polish friend called Honorata, whom I dearly call Honoratka, as she also calls me Alinka) – beautiful place, great food, wonderful company. With so many attendees, it would have been impossible to order different foods, so we had a buffet. Again, plenty of choices, each more delicious than the other.
SATURDAY
After a very packed day on Friday, I spent more time on Saturday networking with colleagues. Of course, I also attended some sessions.
Who Is Afraid of Machine Translation? – Peter Schmitt
Unfortunately I could not stay until the end because all the examples given and analysed were translation from English into German and I don't speak any German. If they had been the other way round, I may have been able to see what was wrong with them.
Why Translation Project Management Is So Important to All of Us? – Rui Sousa
When people say PM (either as short for Project Manager or Project Management), they immediately think of agencies. But, as Rui has shown, freelance translators also do PM, so  using the right tools is essential. Here are his 7 tools of choice (one for each PM task):
Oh, and he also used the lovely Smurfs in his presentation (remember them?) That earned him some extra points in my book 🙂 .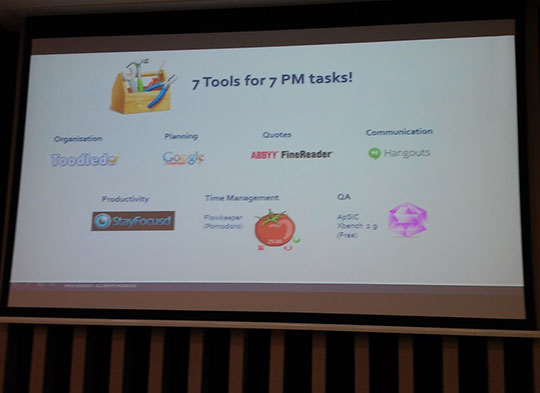 Follow Rui on Twitter.
Debate with Translation Buyers Experts
There were two people on the panel: Katarzyna Dryńska from Viacom and IBM's Saroj Vohra. The latter certainly gave the impression of being the ideal translation buyer: one who knows what our industry entails, what he is looking for, how to treat suppliers (be it agencies or freelance translators). His approach is one that we use at Inbox Translation as well: treat your collaborators right (again, the word collaborator is very important) and everyone has to gain from this relationship.
On Saturday evening, I went out to a quaint traditional Polish restaurant, with 3 lovely colleagues. I enjoyed everything: from the man with a red bow-tie who greeted us at the door and took our coats, to the dim lights, old music, then live music, to the delicious food. I don't know whether I was just lucky to have liked everything I had or whether I am not very picky. Again, a big thank you to Marta and the team for recommending this place to us.
SUNDAY
On Sunday we went on a Warsaw tour, which sort of reminded me of school trips, as we got on the bus, all chatty and excited, like a group of teenagers. Though probably not as rowdy. A tour guide was waiting for us when we got off and what followed were three hours of walking around Warsaw (with a short coffee break at a quaint little café).  It would have been even better if the guide had been a bit louder or used a mic, as there were quite a few of us and could not always hear her clearly. But when we did, she was a delight.
After walking around for a bit (burning off the calories from all the delicious food we'd been eating), we stopped at Honoratka again, where some more yummy food was had. You know what they say about translators: give them a (translated) menu and they can have fun for hours. I have written before about the importance of properly translating menus and I noticed something at this restaurant. I ordered chicken breast with spinach and garlic, which also came with melted cheese on top (which I am not allowed to eat); this was mentioned in the Polish version (as my lovely Polish colleagues confirmed) but not in the English translation. Now, as far as I'm concerned, this did not cause any major issues to me, but imagine someone with a severe allergy to cheese… the story would have been different, right?
We left the restaurant and went to the bus stop to get back to the hotel. Some people wanted to do more sightseeing, others took a taxi as they were leaving for the airport. While waiting for the bus (which did not come in the end, so we took a taxi), I made friends with this very cute pug, whose owner suggested I could hold him so she could take a picture. So, allow me to introduce Marek (I think)!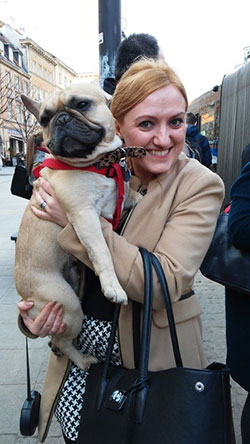 I left Warsaw behind, but the lovely memories shall remain. New friends, new ideas, great talks, flawless organisation. The Translation & Localization Conference 2015 was certainly a great experience. Thank you all!