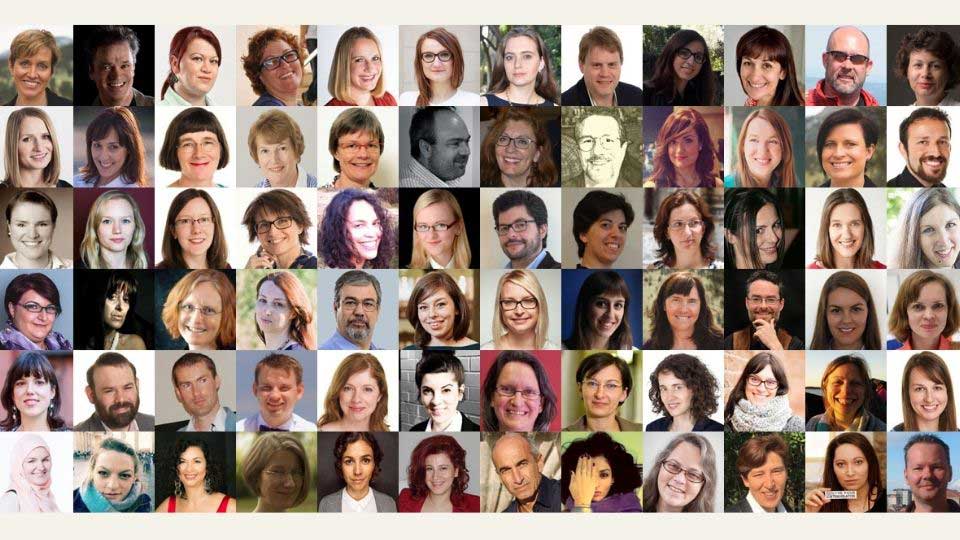 One thing I strongly believe in is that we live to learn something new every day and the best way to do so is by listening to what others have to share. As translators in the 21st century, we are certainly spoilt when it comes to the tools we have at our disposal, tools that are designed to make our work and life easier. Yet, there are so many we don't know about or that we don't use to their full potential. So I decided to ask colleagues, professional translators, people who are well known and people I have worked with about their favourite 2-3 tools (with the exception of CAT tools), free or affordable, that they couldn't live without. The result? Tools for productivity, time management, collaboration, proofreading, social media… you name it. You'll feel like a kid in a sweet shop! At least that's how I felt.
Here's what our experts had to say (in the order they sent their answers):
Tess Whitty
RescueTime – An add-on to Google Chrome that measures your time spent on different activities and programs. It produces daily, weekly and monthly reports and I use it to see where my time goes, what activities are unproductive and time-sucks and how much I work.
Dropbox – Invaluable to back up and store large files in a secure way and to share large files with other people.
_________________________________________________________
Andrew Morris
Text to Speech – By far the best discovery in my 7 years as a translator. And absolutely free. It's a feature in Microsoft Word which reads your text back to you and has made a huge difference to my final edit of any text. The ear hears what the eye does not see. Changed my life!
PerfectIt – I do a lot of editing and revising, including some quite lengthy reports. PerfectIt is a relatively cheap software which scours your document for the tiniest inconsistencies which are again unlikely to be caught by the naked eye. The one time you hyphenate no-one in a document full of no ones for example. Does a very thorough search and points up ever mistake…
Google Keep – Tried every productivity colour-coded app in the world. Loved them all. For a day or two. But this one seems to have stuck. Great for all my notes.
_________________________________________________________
Catherine Christaki
Rapportive – Free Gmail plugin, works in Firefox & Chrome. It looks up your contact's LinkedIn profile, so you can automatically see their professional information on LinkedIn while you are emailing them. And, your contact's LinkedIn information replace the ads that usually appear in the right-hand column of Gmail. Nice eh?
Meetup – For networking & finding all kinds of events in your area. Particularly useful if you live in big cities, it enables you to find networking events, workshops and other kinds of meetups. That's how I discovered and regularly attend tech and business events in Toronto. There are a few great groups for translation and localization, like IMUG. You can be a member so you are notified and get access to slides, webcasts and other useful info about the events they organize.
Slator – Relatively new translation blog that is completely different that all other translation blogs. For example, one of their regular posts is about new hires in the translation industry.
From their About page: Slator makes business sense of the translation and language technology markets through news and insights on demand drivers, funding, talent moves, technology and more.
_________________________________________________________
Paula Ribeiro
Lightshot – Printscreens with short links. Images uploaded into the cloud and quickly shared. Dropbox also does this. Very useful:)
Trello & Asana – Task and project management. These SaaS are very helpful when it comes to organization and task distribution of projects!
_________________________________________________________
Judy Jenner
Toggl – Toggl is a fantastic and completely free tool that helps you keep track of the hours you have worked on a particular project. I love it because I bill a lot of my translation clients by the hour and it's very easy to use and well designed. You can create reports and use all this data for invoicing. I tried several time management tools, and this one is my favorite by far!
KeePass – I've used this password management software for years and couldn't live without it. It's encrypted and safe, and I have hundreds of passwords on it. It allows you to generate very complex passwords for increased online security, and all you have to do is remember a master password to access everything. It's also completely free!
_________________________________________________________
Marta Stelmaszak
Yoast SEO (formerly WordPress SEO by Yoast) – For all of us who use WordPress to run our websites, Yoast has a great free plugin to help you optimise your site. I'm a big fan of it because it's very intuitive and gives you good tips on how to improve your on-site SEO. As a translator, I benefit because I can do my own SEO without feeling overwhelmed.
LastPass – I may not be original here, but I can't imagine my life without LastPass anymore. You may not want to save your internet banking password there, but imagine having all these different platform and portal passwords in one place…
Meet Edgar – Well, meet Edgar! Edgar is my favourite social media scheduling platform because it allows you to build a library of updates divided in categories, and you can switch them on and off when needed. Forget about scheduling the same stuff over and over again… you can store it all in a permanent library!
_________________________________________________________
Yael Cahane-Shadmi
Trello – Trello is the perfect tool for every to-do list fan! You create boards which are personal or shareable. On each board you create lists and add to-do items to each ones. You can define a deadline or a checklist for each item, and if the board is shared, you can also assign items to different users.
Doodle – My favorite tool for scheduling meetings and finding that one time slot that works for everyone. Perfect for translators meetings and gatherings.
_________________________________________________________
Herman Boel
ABBYY Finereader – Getting PDFs either electronically made or simply scanned happens all too often. ABBY Finereader converts it for me in usable Word (or even Excel) format, with the degree of formatting I have chosen myself. Has often proved to be a lifesaver. Not free but not overly expensive (~100 euro for a license).
LF Aligner – The only alignment tool I have ever come across in the past that was worth aligning with, was the old Trados 7 aligner. But that's hard to come by as a stand-alone product. Behold then LF Aligner, which aligns a lot better, faster, easier than any of the current usually built-in alignment tools. And the tool is free too!
TextPad – Getting a usual text file or other type of file (software related usually or XML) that is hard to read with continuous lines where it's difficult to retrieve anything? Open it in the free TextPad that will sort the layout so that you can easily see what's in it and how the file is structured. Free!!
_________________________________________________________
Valentina Ambrogio
Google site:search – This allows me to search just one domain (not the entire Internet) for a particular search term. Very handy when you need to use very specific terminology but you were not provided with an official glossary.
Microsoft Language Portal – Here you can find all official Microsoft terminology, style guides, UI translations in more than 50 languages. This is the go-to website when you're localising Microsoft-related content.
_________________________________________________________
Nathalie Reis
OneNote – It allows me to note anything and everything in one place. I have divided it into easy sections (ideas, inspiring websites, CPD etc.) and I have it on my smartphone too, which means that I can add anything to it when I am on-the-go and it is synched to my PC. Very useful tool!
Flipboard – Flipboard is my "Personal Magazine". It allows me to choose the type of news I want to hear about, in my case international news, business, biotechnology & science, art & design and books. Easy to use, varied sources, great layout!
French Radio – A excellent app on my smartphone for catching up with the news in French. It has all the French radio stations and my favourite are France Info, France Inter, France Culture. A very useful way to maintain your native language and keep up to date with what is happening in your country.
_________________________________________________________
Graeme Hunter
SumatraPDF – This is a PDF viewing tool for those bored with how bloated Adobe Reader products have become. It is simple, quick to load, doesn't insist on constant updates, and, unlike Adobe Reader, it can be invoked from the command line for completely hidden printing and export activities is useful to programmers and automation buffs who want to do automated stuff in the background.
_________________________________________________________
Catharine Cellier-Smart
ClipMenu – ClipMenu is freeware for Mac computers which records (up to) the 100 most recent things you've copied (including images). I don't spend my life copying and pasting, but I do find it incredibly useful to be able to go back and easily find something I copied a few hours or even days ago in a list, whether it's a URL, someone's name, or a piece of text. It often avoids having to search for something again and as such is a real time-saver.
ShiftIt – ShiftIt is a free utility that allows you to quickly organise and manipulate your Mac OSX windows using keyboard shortcuts. I work on a 27″ iMac and I love being able to split the screen into two with my CAT tool below and the original of my source document above, for example. It's like having two monitors in one.
MagicSearch – As a Mac devotee I can't use a tool like IntelliWebSearch for terminology research as it's only for PCs. So I was delighted when I recently found out about MagicSearch, which is browser-based and as such can be used by anyone with an internet connection. After selecting a language pair you can search multiple sources with a single click and it will display a single scrollable page with multiple sources.
_________________________________________________________
Kasia Pranke
Trello – A perfect tool for all organisational freaks (or just translators). Allows you to manage all translation projects and keep an eye on deadlines as well by using visual cards which you can easily drag and drop from one list on another (Kanban type) – I use three lists: "to-do", "doing" and "done". Basic version is free of charge.
Toggl – Simple, but visually appealing productivity tracker which will provide you with transparent reports. I find it very helpful when working on projects such as proofreading or transcreation as it allows me to see how much time I spent on particular tasks and. If required, I can also share a report with my client. Basic version is free of charge.
_________________________________________________________
Teresa Sousa
Quahill Basic – Quahill Basic is a translation project management software that was specifically developed for freelance translators that allows me to keep track of all my projects, manage client data and invoicing procedures and still get lots of performance reports.
FastStone Capture – FastStone Capture is a screen capture tool and screen video recorder. It allows you to easily capture and annotate anything on the screen including windows, objects, menus, full screen, etc.
_________________________________________________________
Claire Cox
Dragon Naturally Speaking – While this isn't free, at only £50 or so for the Home version this has been one of the best investments I've ever made. It leads to increased productivity (easily doubling your daily output – my record to date is 13,000 words dictated in a day – admittedly with a CAT tool as well!) AND helps prevent or alleviate RSI, which is why I bought it in the first place.
Solid PDF to Word – This is the very inexpensive little brother to the main SOLID suite, but does a great job at converting even the most complex editable pdf files to perfectly formatted Word files. I have Abbyy Finereader too, which is invaluable for scanned pdfs, but the formatting can sometimes be a pain. I find it's always worthwhile seeing if you can use Solid first, as it produces much better formatted results.
Microsoft Money – I've been using this software for my personal and business finances since I got divorced in 2003 and wouldn't be without it. It allows you to keep track of all your accounts and expenses, create reports (e.g. revenue from specific clients, household expenses to offset a proportion against tax, etc.) for defined periods and is child's play to use (much more intuitive than dedicated packages like TO3000, for example!). Sadly no longer supported by Microsoft, but I believe the replacement is Microsoft Money Plus Sunset Deluxe (can be downloaded from: here).
_________________________________________________________
Lucy Brooks
Dashlane – Password manager. It automatically logs you into sites you visit. Keeps a record and history of your passwords, and quickly gets me into infrequently visited sites for which I've forgotten the log-in details. I do have to remember the master password and enter it every so often. It's free for one device and USD40 p.a. for more than one. It works for my iPad, but is restricted to browser searching. If you use the Facebook app for example, you have to enter your details (or I do because I have two accounts and am constantly logging out of one and into the other). But it's a great help with logging into other sites from mobile devices.
Rescue Time – This is free but there is a paid version. I use it to time my hours at my PC. But it does more than log time at the PC. It breaks down your work patterns into productive time, very productive time, or distracting time You can control which website or applications are productive/distracting. For example, although I might go onto Facebook during the working day, it is usually for work purposes, so I count it as productive. You can see how long you were using MemoQ, for example, or how long on Skype. You can also categorise your applications into types, such as communication and scheduling, business, writing (i.e. translating).
I haven't been using it long but it is already producing some insightful reports.
You can set goals, such as achieving 85% productive time, not working more than 2 hours at weekends, and others
Insightly – Free CRM tool which I use to organise eCPD work, allocate tasks to myself and my assistant and keep track of emails (the important ones anyway), files, contacts and dates. There are limitations with the free version, but it's enough for us for now.
_________________________________________________________
Emma Goldsmith
LockHunter – Have you ever tried to delete or rename a file and get the error message: "The action can't be completed because the file is open in another program"?
Install the free app "LockHunter" and next time you get this message, right click the file and find out which app is blocking the file and unlock it.
Directory List & Print – This tool provides an editable text list of all filenames in any folder. Big translation projects often have multiple files and this app makes it easy to add a file list to a spreadsheet, email, Word doc, etc.
There's a free and a Pro version (€18) and once installed, the list option appears when you right click the folder in Windows Explorer.
_________________________________________________________
Leon Hunter
Office 365 – This was a collaborative platform I used firstly with my translation company employees in 2011 and then with my translation mentoring students in 2013. At the time, tools like these were not very well known.
The main advantage for our translation team is that we were able to translate a large project where no CAT tools could be used. We created a real-time online glossary (Excel sheet), updated for six people working on the project at the same time.
The project could have also been done using Google software, but one of the benefits of the Microsoft offering was that documents could be updated on the platform without users having to have Office software on their computers and the cost was reasonable (around 4 to 6 pounds per user/month at that time).
One issue was that some people are averse to Microsoft products and Office 365 did not work as well with Google Chrome as it did with Internet Explorer (I think this has been fixed now). My employees had never used IE and hated it.
As for my mentoring students, I found that they were more familiar with products like Google Drive (available on Google Apps for Work) as they had used it at university. They did not adjust well to 365 and a lot of explaining and patience was required. Additionally, the part of 365 called "sites" (where they created a site for each group of translation students working on a business plan) was not very user-friendly and caused a lot of frustration.
I did insist (and the students understood) that using Office software is important in our work as translators as it is still a standard for business, and that they would need to move away from other free options if they were serious about doing business with companies.
I think that both of these products were a very good idea and assisted us a lot in organising as a team but, as I say, employees and collaborators may have preferences for certain browsers or technologies. Before implementing anything like that for a company or education programme, I would recommend that you survey and test to find out what your team are comfortable with. Training might be needed for more advanced features like videoconferencing. My experience is that it is better to try to set up in-person and on-site training as sending long emails can be time-consuming and ineffective.
Adobe Document Cloud – I recently read an extensive blog post by Marco Cevoli about PDF translation "Traducir un PDF sin morir en el intento" (roughly: translating PDFs without dying in the process). There was a roundup of options, including Abbyy Fine Reader, Infix and Zamzar.
However, the post did not mention that Adobe actually has its very own subscription platform, Adobe Document, where you can do absolutely everything: create PDFs, convert them, combine and rotate pages and send scanned work to clients.
The platform also offers access to many other Adobe programmes (Illustrator, etc.) on a subscription basis (Adobe Creative Cloud). This can be interesting for occasional translation jobs with specific software requirements.
The main issue I find is actually accessing the platform (as Adobe has a very large site) and it sometimes gets mixed up and you cannot find the login you want and get sent to the general site.
I work mostly in certified translation and use PDFs a lot. It is useful for the following translation-related tasks:
* Converting PDFs (original ones or scanned documents) into Word to provide a quote for a translation
* Creating forms in PDF (including quotes)
* Converting, combining and rotating pages (often my clients send work scanned and they send one document scanned across multiple pages, in JPG format, with upside down text, unhelpful file names…). I usually combine the documents into a single PDF with an appropriate name and the pages in the right order and direction.
* Scanning and sending the work: there is a sending option with read and delivery confirmation and you can add your own logo
* Editing PDFs: you can edit PDFs on your computer or online but an issue can be having (and finding) the right fonts, as well as speed, as it could slow down your translation efforts
An issue is definitely the price (billed on a monthly basis) so you would need to judge how important PDFs are for your translation business.
_________________________________________________________
Nancy Matis
Search and Replace for Windows – Search and replace utility allowing you to search for words within multiple directories full of different kinds of files.
Very useful to look for information, but also to change a translated term throughout a whole project, as a translator, reviser or project manager.
New version: Replace Studio Pro.
Solid PDF to Word – Tool converting PDF files into MS Word files.
Very useful when you receive PDF files to translate, although not all kinds of PDF files can be easily converted.
I've used it for more than 10 years as it works well for most of the PDF files I receive.
_________________________________________________________
Riccardo Schiaffino
Portable Kanban – Kanban is an excellent system for staying organized and on top of your projects. It can be used by teams but also by individuals. Dmitry Ivanov's Portable Kanban is an excellent implementation of the Kanban system for Windows, very suitable for individual translators. This tool is freeware.
CintaNotes – As translators we always take notes: about words to search, about questions to ask, about errors we find in the source document, about interesting sites or reference works we discover. There are many note-taking programs available, from Evernote to Microsoft OneNote, but the one I found that best works for me, with the right balance of features and ease of use, is the professional edition of CintaNotes. You can find more information on how to use CintaNotes for translation in my presentation "Note-Taking for Translators". This tool is "freemium" (available "free forever", but you have to pay for some advanced features available only in the Pro version, which costs USD 39/year.)
FastStone Capture – I often have to take screenshots of programs, either because I'm writing about them, or because I'm testing their localized versions. The best screen capture tool I've found is FastStone Capture. It offers many different options for capturing screens and for documenting them graphically (all the screenshots you see on my blog are taken with FastStone.) This tool is shareware (free to try, $ 19.95 for a lifetime license, if you decide to keep using it.)
_________________________________________________________
Scheherezade Surià López
Dragon Naturally Speaking – My life saver when it comes to tight deadlines. It works best when you have it completely trained and the text is not too technical, in my case, it works perfectly when translating novels. It may not be very cheap, but it is worth it!
Repetition Detector – When translating books or texts which require even more creativity than usual, it is important not to repeat yourself (especially when repetition is not a characteristic of the text you have to work on). Repetition detector is perfect to avoid repetitions that can result in a poorly written text.
Reverso Context – You may know Linguee, which is OK for fields such as law and economy, but does not help much when it comes to literary translation.
Reverso Context is great because of its comprehensive database. It contains not only the official documents you would find in Linguee and similar tools, but also dialogues (books and subtitles) and multilingual websites, and it covers both formal and informal language!
_________________________________________________________
Carolyn Yohn
Buffer – Stay involved across your social media accounts without spending hours online each day. Schedule your content in advance, track analytics, and post directly from websites you like. Free up your daily social time for actually socializing with followers and friends. There are versions for every budget (including no budget).
AllTheFreeStock.com – If you give presentations with any regularity to clients, colleagues, or your kids' school groups, this is the best site to find high-quality photos free for personal and professional use. Search by mood, color, and keyword. Take your PowerPoint or Prezi to the next level.
QuotesCover.com – Another great free tool for social media and presentations. Search for quotes by topic or author, or add your own. Customize polished images for Facebook, Twitter, Pinterest, and other media. Use their fonts and color combinations, or add your own background image.
_________________________________________________________
Marion Rhodes
Pocket – Pocket allows you to save and tag online articles with one click, whether you are viewing them on a PC or on your smartphone. This tool comes in really handy for building a content archive for my social media marketing efforts. Whenever I come across an interesting article, I save it in Pocket and tag it in the place I plan to share it later, e.g. "Twitter," "LinkedIn," etc. Pocket integrates with many other apps such as Feedly, making it a one-stop shop. When I schedule my social media updates for the week, I just go to Pocket and pick from there.
If This Than That – If This Then That is an app that does exactly what the name implies. It allows you to connect your favorite apps such as Twitter, Pocket, Evernote, Facebook, Buffer and many more by creating "recipes" that determine task sequences. For example, I use this app to help expand my social media content archive: If I like, send or retweet anything on Twitter, that content is automatically saved to Pocket. It's an effortless way to build up my library and a huge time saver when it comes to my content marketing strategy.
Focus@Will – If you're easily distracted by noise around you, this app is for you! Focus@Will is like a Pandora for productivity, featuring scientifically optimized music to help you concentrate and increase your focus. You simply select your channel, from classical piano to ambient cafe noises, choose the intensity level, and tune into your work. An optional timer reminds you to take breaks every now and then to give your brain a rest. I listen to the Focus@Will app with noise-cancelling headphones on my iPhone whenever I translate to tune out barking dogs, ringing phones and other distractions.
_________________________________________________________
Daniel González
Count Anything – Count Anything is a free tool that allows you to count the number of words and characters in a given source. It supports a very wide range of document types, but also URLs, making it very useful to give quick quotes for translating websites. I have tried other pay tools in the past, but this one does a pretty good job and it's completely free!
If This Then That – This is an online tool (both for desktop and mobile) that allows you to automate tasks. You can create your own "recipes" or borrow others that have been created. Each "recipe" carries out an action whenever a certain trigger happens. For example, you can get a notification in your phone when you receive a high priority email, you can automatically save all attachments you receive by email in your Dropbox/Google Drive, or you could add a reminder on Google Calendar whenever you miss a call. The possibilities are endless and, if used well, you can save a lot of time by automating repetitive tasks.
_________________________________________________________
Else Gellinek
Acronis True Image – Acronis True Image is powerful backup software that you can set and forget. When my computer crashed and burned recently, it only took me 10 minutes to set up my new system thanks to the daily system clone I had Acronis creating on an external hard drive! If you're thinking about upgrading your drives or simply want to sleep easy at night, Acronis is a great choice!
Focus@Will – Focus@Will is a paid music streaming service that lets you listen to music scientifically proven to increase your focus. I don't know about the science behind it, but I do know that it has kept me bright-eyed and bushy-tailed during long proofreading sessions and tricky translation passages. This might be just the tool to bebop you out of that afternoon slump.
_________________________________________________________
Claire Harmer
Unroll.Me – I try to keep my inbox as clear as possible so that I don't feel overwhelmed. Unroll.me (free tool) creates a list of all your subscription emails and you can instantly unsubscribe from any you don't want to receive. It then combines your remaining subscriptions into a 'Roll up', which is sent out once a day. So all my translation e-group emails, blogs I'm following, industry newsletters, etc. are sent as one email and don't clog up my inbox.
Backblaze – When my laptop was stolen a few years ago and I lost 3 weeks' worth of work I realised I needed to get an automatic back-up tool. Before that I just updated to an external hard drive every once in a while! I've used Backblaze (a cloud back-up tool) since that and would really recommend it. It works in the background and backs up everything for you on a daily basis. It costs $5/month which is well worth the peace of mind!
_________________________________________________________
Beth Burleigh
Bullzip PDF Printer – As translators we often have to wrangle with different file formats. Like me you might use the free Adobe Acrobat Reader for viewing PDFs, but if you want to quickly turn a document (Word, JPEG, etc.) into a professional-looking PDF, there's a free tool you can download called Bullzip PDF Printer. In your document's print view you just select 'Bullzip' from the printer drop-down menu, then click 'print' to create a PDF file.
Icecream PDF Split and Merge – I often need to sign and scan multiple-page documents, but my scanner is old / cheap and can't handle this. Enter Icecream PDF Split & Merge (about £15). It does what the name suggests: splitting or merging PDFs so you don't end up emailing reams of documents entitled 'Page 1,' 'Page 2'. I simply convert my scanner's image files to PDF, drag and drop them into the Icecream app, then press 'merge'.
Dragon Naturally Speaking – OK, so this involves an upfront investment, but I got the DNS software + mic for £200 two years ago which works out at £8.30 per month so far. Dragon not only speeds up my translation rate (and I was a fast typist to begin with!), it gives me more time for proofreading and produces a more natural-sounding text. The other major reason I use it is the health benefit: less typing means a lower risk of developing RSI, plus it gives me the freedom to get out of my chair and dance around the room while I work.
_________________________________________________________
Clara Giampietro
Pinterest – Pinterest is a great tool that can be used for promoting creatively our translation services by combining appealing images with useful content. I use it to share my own content and that of others. I also use Pinterest as a research tool: I collect and organize terminology references and reminders, setting up different boards for each project and area of expertise.
Count Anything – Count Anything is a free word count tool, particularly helpful because it is easy and quickly to use and quite accurate. It supports a large variety of file formats: Microsoft Office files, Open Office files, HTML and PHP files, text and PDF files (text only), XML files. It counts number of words, characters (with and without spaces), Asian and non-Asian words. It also counts words in text boxes, graphs and many other embedded objects.
Google Keep – My favourite note-taking app is Google Keep. I can take and save notes, to-do lists, checklists, images and voice memos, and easily transfer them into Google Docs or share them with others. I can set a pop-up reminder in Keep and get notification in my browser or on my smartphone. Two amazing features: you can use Google Keep as a bookmarking tool and to transcribe text from images.
_________________________________________________________
Marie Jackson
RescueTime – RescueTime tracks the time you spend online, offline and away from your computer. It's helped me to boost efficiency and streamline processes, and I don't know what I'd do without it! It saves me time and headaches by working automatically and holds me accountable by showing exactly what I've spent my time on (whether that's work or Beyoncé videos). The best bit is the 'productivity pulse', which shows how productive you've been that day. The paid option also allows you to block distracting websites, set up goals and alerts, and even compare your annual productivity levels.
Workrave – Workrave is a free tool to help you remember to take breaks. I love my job and I love running my own business, which sometimes means I get sucked in and forget it's time for a break, a glass of water and a bite to eat. Workrave reminds me to take regular breaks and even takes me through exercises to keep my body in tip-top shape. It makes the day whizz by and I'm a fresher, happier translator as a result!
Streak – Streak is a free, Gmail-based CRM system that allows you to keep track of your leads and follow up. I've only just installed it, but can already see how much it will help me to keep on top of warm leads. I love how visual the system is and think the pre-set templates are great! What's more, it allows you to 'snooze' emails until later, schedule emails to go out at a specific time, and track your open rates – and unlike other software I've tried, it actually works!
_________________________________________________________
Ewa Erdmann
Pen and paper – This is back to basics really, but it truly is my favourite organising tool. Always accessible, infallible, needing no Wi-Fi and so so simple – we've learned to use it years ago!
With a pen and a piece of paper I am way more creative than in front of a screen, so I can draft a blog post in no time. Similarly, my to-do lists are always written in ink or pencil, rather than typed on a device.
It's as easy as this: I owe my creativity and organisation to the simplest tool possible – pen and paper. It's much underestimated but for a minimalist as myself – perfect.
Canva – Canva caters for all my designing needs. Whether it's a graphic Facebook post or a new design of business cards, I always turn to the Canva website.
With plenty (but without the feeling of being overwhelmed) of options to choose from, easy navigation and quality pictures for $1, DIY designing can't be better than this!
_________________________________________________________
Rui Sousa
Lightning – Lightning is an extra for Mozilla Thunderbird that allows you to have Google Calendar on Thunderbird and add/remove events very easily through there. What is really nice is that if you're on-the-go you can also write and delete your tasks and reminders directly from your smartphone calendar (it must be synced with Google Calendar!) and those changes are immediately updated when you arrive to your workstation. Can't live without it! Enjoy!
Feedly – For me, Feedly is the best way to read blogs and share your favourite articles very easily on social media. It's specially directed to those who are avid blog readers, and there are so many great translation blogs right now! It's a great tool that I love to use on my smartphone. Give it a try!
Abbyy Fine Reader – For sure one of the best tools to work with PDF, and probably the best if you're a translator that work regularly with scanned files (dead PDFs). This tool is great to convert those files and use them in your CAT-Tool (after some manual improvements of course) or to estimate the word count and perform a quotation to the client with no effort. However, this is not free. But it's great value for money! Give it a go!
_________________________________________________________
Luísa Matos
Trello – I use Trello to manage all the important information I need for my work as a translator, and also in other areas of my professional or personal life. I can create as many boards and tasks as I want, even if it is a "not so urgent" task. With the possibility to add a label, to have a due date or even adding another person to the task, I really love this tool and recommend it to everyone.
TeamViewer – While TeamViewer is mainly used to access remotely to a computer (for instance, to access to my main computer via other computer or even by a cell phone), I have used it to have some meetings with my business partner (instead of using Skype). It is great, it doesn't crash as Skype, and I can also share my screen, if necessary.
_________________________________________________________
Raluca-Maria Topală
Simple Pomodoro (Firefox or Chrome) – This app helps me divide my working hours into 25 minute chunks (when I have to focus on the task, and I'm not allowed to check social media, eat, take calls etc.), interspersed with 5 minute breaks. It works both ways: with tasks I'm keen on, it reminds me to take regular breaks; with tasks that I'm not so very fond of (administrative work etc.), it's easier to focus when I know I can have a break every 25 minutes.
Pocket and Flipboard – I use them alternatively for saving interesting links (and I use both in addition to Pinterest). They complement each other very well – Flipboard has a public side to it that might be useful for reaching out to colleagues etc., while Pocket makes it easier to save the same article under different tags.
7 Minutes Full Work Out – The title gives out what it does, I guess – interval training for seven minutes. I can use it at home – no equipment needed. It's excellent for days when I don't get to move around much. I use it mostly in the morning, first thing before (or right after) coffee.
_________________________________________________________
Anastasia Giagopoulou
Online PDF Converter – Online PDF Converter easily converts Excel files to PDF, online & FREE.
This tool offers more features, as you can also merge, edit and unlock files. I mainly use it for converting my invoices to PDFs before sending them out to my clients. This converter supports many formats, very useful and time-saving for a translator.
Jing – Jing is a free and simple software that takes a picture or video of your computer screen and uploads it to the Web, FTP, computer or clipboard. It is compatible with Mac and Windows. I use Jing for sending images to my clients when needed and for uploading images/videos on my social media accounts, stress-free and in just a few clicks.
Karen's Replicator – Karen's Replicator is a freeware that automatically backups files, directories, even entire drives. It copies selected files from one drive/folder to another. Source and Destination folders can reside anywhere on your network. What is more, files larger than 2 GB are supported. A must-have software for every translator who wants to backup his/her work easily without spending many hours to do so.
_________________________________________________________
Jayne Fox
Adblock Plus – I use this Google Chrome extension to block annoying ads, malware and tracking. As translators, we're always Googling terms for our translations. Using an ad blocker means I don't get bombarded with ads for random items wherever I go online – thank goodness for that!
Avast Online Security – This is a Google Chrome extension that comes with the free Avast antivirus software. When you do a Google search, it checks the reputation of the websites in the search list, and warns you if you're about to visit a website with a bad reputation. It's a good way for translators to increase online security, especially as we do so many Google searches.
Fitbit App – As translators, we can sometimes end up sitting at our desks for hours on end. I use the fitbit app as a reminder to keep moving and get some exercise! I'm much more productive if I look after my health and fitness, so I always aim for a good balance between work and play.
_________________________________________________________
Giulia Carletti
Fatture in Cloud – This is for Italian-based translators only, but this invoice management tool is a life saver! With it, I can keep track of all my expenses, check overdue invoices, see quarterly reports and many other features, and everything's on the cloud so you can access it whenever you need from any device. I dread invoicing and accounting, but this tool is a great help!
Grammarly extension for Chrome – As a non-native English speaker, I fear a typo is always around the corner, so having an extension that reminds me the correct spelling or the best way of wording something is really helpful. With this, I can make sure that every email or social media post is always spot on!
_________________________________________________________
Alessandra Martelli
Inoreader – Want to stay on top of industry news in your interest areas and working fields? Inoreader (inoreader.com) is your new best friend. Subscribe to RSS feeds, social channels (Twitter, Google+, Facebook), and more. Create active searches to track specific keywords and topics. Maximise for effectiveness with rules and filters. With a Pro plan, you can also search in all public articles. Great for keeping a close eye on interesting prospects too!
ConvertAll – ConvertAll has been in my toolbox since Windows XP. It's a powerful and accurate unit converter with an extensive database (over 500 units), which also supports combinations (e.g. from miles/hour to meters/second) and mathematical expressions. Saves tons of time when translating essays, papers, scientific articles … but also recipes, tourist information and travel itineraries, manuals, and more. Plus, it's 100% free – and works seamlessly on Windows 10.
_________________________________________________________
Nora Torres
Hemingway Editor – Description: Proofreading tool, Cost: $9.99
If you translate/back-translate into English, this program can help you ensure your writing is clear. It provides you with a readability score and other details such as # of paragraphs, sentences, words, and reading time; it tells you how many sentences in your text are hard/very hard to read, which phrases have simpler alternatives, and whether you are overdoing the use of adverbs and/or passive voice. You can import/export Word files.
RescueTime – RescueTime Lite: Free, Time management software
If you want to keep track of your productive/distractive time online, this is your tool. You get reports that show which applications/websites you have spent your time on, how much time you have spent in different (editable) categories, how productive you have been, and whether you have achieved your goals.
_________________________________________________________
Lisa Carter
Trello – Trello is a collaboration tool that helps me keep projects organized, so I know who is doing what and when. You can have a number of boards and organize the workflow in whatever way works best for your individual needs. So, for example, I have one board for my manager who handles all into-Spanish projects, and that's organized by workflow, and I have another for my blog contributors that's organized by person. Trello helps me keep everything in one place, as the members of a particular board comment on it, attach files, assign due dates and use checklists. It's a simple yet very versatile tool.
Posts Calendar for WordPress – This is a plugin that I use to set out the editorial calendar for my blog and newsletter. It allows me to see at a glance, in calendar format, what's scheduled, where there are gaps in the schedule, who's responsible for the post and so on. Being in calendar format helps ensure that I consider things like holidays and new course start dates, in order to make sure my posts are relevant and timely.
_________________________________________________________
Elena Tereshchenkova
Evernote – Evernote is like my second brain. I use it to collect material when I do research for my blog posts, to track my marketing activities (there's a great reminder feature that alerts you when it's time to follow up with that dream client) and many other things. I also have a brain dump note, that I use to quickly write down things that come to mind while I'm translating so that I don't forget about them and can go back to them when I finish the work.
Focus Keeper – This is a small app for iOS based on the concept of Pomodoro technique. I find that concentrating on translation for shorter periods of time followed by a break helps me translate 20-30% more words per hour. Taking regular breaks from sitting at my desk is also good for my health.
Trello – This is an amazing tool for collaboration. You can use it from a laptop or install the app on your smartphone. It allows you to see an overview of the whole project, you can add people to the project board and discuss your work with them. There's a number of additional tools like labels, checklists or deadlines that make organizing work on a project easy.
_________________________________________________________
João Roque Dias
WeTransfer – With the known limitations of all email providers, WeTransfer lets you send up to 2 GB files (free version) in a clean and easy way.
ProtonMail – Forbes even called it "the only email system NSA can't access" and with good reason, too. Their servers are located in Switzerland, and the emails are encrypted end-to-end, which means it is impossible to intercept and decipher them. You may request an invite (free of charge). Mobile apps are available for iOS and Android.
EditPad Lite – A very nice and compact general-purpose text editor. Use it as a sidekick for your main word processor. Features I like: remove duplicate lines, remove blank lines, remove leading and trailing whitespaces and a powerful search-and-replace engine.
For another Search&Replace standalone program, try InfoRapid Search & Replace, specially for HTML and RTF documents.
_________________________________________________________
Carmen Swanwick-Roa
Wave – Wave is a free accounting service that securely links up to your bank account and makes it easy to keep track of business expenses and income. It only takes me 10-15 minutes each week to add, categorise and verify my expenses, and the ability to export spreadsheets makes the yearly tax return that bit easier.
Unroll.Me – I am one of those people who can't help but read every email that drops into my inbox as soon as it arrives. Unroll.me bundles up all of the less important emails (newsletters, LinkedIn requests, blog notifications) and delivers them in one bundle every morning. This means I'm not distracted by a "ping" every 10 minutes, but also that I don't have to unsubscribe from emails that might interest me.
TomatoTimer – A useful productivity tool where simplicity is the key. I find that thinking in 25-minute segments (with the promise of a short procrasti-break at the end) helps me to keep going when faced with a daunting task. It also helps me to move more when I'm working from home: at the end of the 25 minutes I get out of my chair and stretch my legs.
_________________________________________________________
Stéphanie Klebetsanis
iCal – iCal helps me organize my different tasks by color so I have a clear view of how my weeks look like. I also use it as a to-do list by inserting tasks as events. That way, I am absolutely sure I won't forget them!
WhatsApp – Mentioning WhatsApp may sound strange, but it's a great way to keep in touch with colleagues when I'm abroad and on my phone. Since you can create groups, it's also perfect to organize meet-ups. Besides, its voice messaging feature is great when you're in a hurry!
_________________________________________________________
Serli Varjabetyan
Pocket – Whenever I come across an interesting article that I want to read later on, I add it to Pocket. Pocket automatically syncs content to my phone so I can view it any time, even without an internet connection. There are three things I like about Pocket: 1. It allows you to add custom tags to your articles. This makes it much easier to sort through and find articles. 2. Saving to Pocket removes the non-text elements of the page so you can read the articles without any distraction. 3. You can connect Pocket to Evernote!
Trello – Trello helps me keep all aspects of a project organised and run efficient to-do lists. With Trello, I can keep track of all stages of a project at one place and make sure I don't lose any important note or idea! For example, your 'Projects' board can have lists such as 'To do', 'Doing' and 'Done', each containing cards of projects at various stages. These cards can show deadlines, checklists, comments, labels and attachments.
Moosti – Moosti is a simple Pomodoro timer app. It's on my favourite list because of its additional features. You can mark the time period you wish to work for, and set your short break and long break times. You can also use it on your mobile phone so you will still receive the notification when you get up and move around during your break. This app is perfect if you tend to peg away for hours until your eyes become blurry!
_________________________________________________________
Corinne McKay
SugarSync – A great online syncing tool that automatically scans designated folders (i.e. My Documents) for new files, and securely copies them to your cloud storage. Great disaster protection, and lets you grab and edit your files from anywhere. You can also create public links to allow other people (i.e. clients in other time zones) to download specific files.
Adobe online PDF converter – This converter can often work on even those PDFs that have been scanned, photocopied, folded up in someone's pocket, etc. Not suitable for highly confidential documents, but very useful for creating Word documents out of tricky PDFs otherwise.
Payment Practices – Anyone who works with agencies needs a subscription to Payment Practices! For US $20 a year, are you really going to run the risk of not being paid, even for a minimum charge? Also a great market research tool!
_________________________________________________________
Oliver Lawrence
ApSIC Xbench – One tool I find excellent is ApSIC Xbench. Its many features include converting translation, memory and glossary files between various common formats, but the main thing I use it for is QA. I've exploited the checklist facility to set up hundreds of my own language checks (whether my pronoun antecedents are ambiguous, whether I've positioned the word "only" correctly in the sentence, etc.). It's my own free quality assurance companion, customised just the way I like it.
NumLocker – I imagine that the well-nigh indispensable IntelliWebSearch and PerfectIt tools will have been well covered already, so my other pick is a simple wee bit of software that saves me a little time and temper every day: NumLocker. To use the numeric keypad on the right of the keyboard – which I seem to do quite a lot – I need NumLock to be always on. It became slightly irritating when my hasty-typing errors inadvertently kept turning it off (it's near the Home, Del, Backspace and Enter keys); NumLocker solves that minor annoyance for me.
_________________________________________________________
Carol Bidwell
Strict Workflow extension – This is a 'Pomodoro' extension (for Chrome, but similar tools are available for other browsers) that blocks a list of sites for a set period before giving you a break – perfect for those of us who are easily distracted by social media and news sites!
Snipping tool – A desktop app on Windows, this handy little program lets you take a snapshot of part of your screen – perfect for sending confusing error messages to PMs or tech support.
TeamViewer – This free program lets me access my desktop remotely through my laptop – meaning I don't have to worry about accessing files and programs when I'm on the go. All you need is an internet connection!
_________________________________________________________
Olga Arakelyan
Google Contacts – I use it a lot for the translation school where I work now. It's very convenient because it lets me create different groups of contacts (students of specific xl8 courses, teachers, tech support of the webinar platform and other services we are using etc.) and then email them by groups. It also makes it a lot easier looking for the contacts of a specific person if I have forgotten their email, but I remember which group he or she is in). I started using Google Contacts only after I started working with this translation school and I almost immediately wished I had started long before that because it makes communication so much easier!
Linguee – I love this online dictionary because it does more than showing possible translations for different words. It also shows the context in which they are used. Of course, it's not the only tool I use while translating, but it is definitly worth mentioning.
_________________________________________________________
Caterina Saccani
Evernote – One tool I couldn't live without is Evernote. Its Basic (FREE) features include the possibility to save articles and clippings from the web, share information with other users and synchronize across different devices.
Notes on a similar topic are grouped into notebooks.
For me this means being able to save results from web terminology research carried out for a translation or interpreting project, save them in one place and access them from everywhere.
Hootsuite – Since I started freelancing as a translator/interpreter Social Media has helped me connect with other translators and share views on interesting topics regarding our profession. This wouldn't have been possible without Hootsuite.
The tool allows to schedule tweets/posts across different social media channels. I usually spend about 1 or 2 hours in the weekend scheduling my social media posts for the whole week.
The basic version allows you to synchronize up to three social media platforms.
InterpretBank – Last but not least, a tool I would recommend is the terminology management software InterpretBank. It was developed to suit the needs of conference interpreters who want to keep all their conference related glossaries in one place and quickly look up terms in the booth.
While it offers a few awesome features for conference interpreters (memorize glossaries before a conference or look up and extract terms from reference materials, just to name a few), I use it for my translation related glossaries as well.
The one-time licence, which entitles you to all updates, costs 89 €. Before buying it you might want to check if your professional association has a an agreement with the software provider which entitles you to a discount.
_________________________________________________________
Iwan Davies
Click.to – Click.to's been around for years, and I'm always surprised more people don't know it! Simply, it connects your clipboard to all your favourite research sites and more. A kind of alternative to Intelliwebsearch.
Podio – Podio lets me create web apps to manage all sorts of data, like clients, projects, meetings, etc. There are predefined apps that can be customised, or you can build your own from scratch. Free for teams up to 6 people, and integrates with Calendars, Dropbox, OneDrive, etc. Plus an app for Android & iOS!
The Great Suspender – A Chrome add-in that automatically suspends tabs when they're not being used, and then reactivates them when you click on them again. Prevents the nightmare of Chrome crashing midway through research with 20+ tabs open!
_________________________________________________________
Dr Dragoș Ciobanu
ClearContext – Despite all the talk about confidentiality, lots of LSPs, enterprises and individual customers still use e-mail. ClearContext is an MS Outlook productivity plug-in for e-mail and task management which I've been using solidly for over 7 years. It makes e-mail filing to Outlook folders and subfolders super easy and genuinely pleasant. Top tip: don't get sucked into the Email Stats gamified dashboard. Just glance at it occasionally to feel good about your productivity.
Automatic Speech Recognition – ASR is picking up in our community for productivity, quality, as well as ergonomics reasons. I use Dragon Naturally Speaking to dictate into English on Windows, and Apple iOS' built-in Romanian and French ASR when I need to dictate into these languages. Google Voice is not bad at all, either! The ability to look away from the keyboard, rest my eyes, dictate in a natural style, and be more productive overall are key for me. Top tips: don't dictate like a robot, watch out for 'speakos' in the various languages (homophones in English; non-standard, deprecated spellings in Romanian), and take self-revision very seriously!!!
Automatic Speech Synthesis (Text-to-Speech, TTS) – Hearing someone else read out your translation (or whatever you have written, for that matter) gets your senses involved more fully in the revision and review processes. I'm a big fan of asking Dragon Naturally Speaking to read out what I have just dictated in English so that I can check the style and intelligibility without straining my eyes.
Top tips: 1. start with the range of languages offered for free by your text editor and your operating system before buying a dedicated TTS tool; 2. don't rely just on the spoken output for checking your deliverable: have another look at your text before sending it to the client.
_________________________________________________________
Dmitry Kornyukhov
Tawk.to – Tawk.to is an amazing free chat service packed with a ton of great features. It is easily one of the best chat services I have ever seen. If you're looking for a new and awesome way to engage your website visitors, Tawk.to is your weapon of choice. Powerful dashboard allows you manage communication with your leads rather easily, giving a personal touch to your website. You can talk with potential clients in real time, they can send you files, you can receive messages when you're online or setup smart triggers to grab the attention of your site visitors. Plus it's free forever. You can't beat free, can't you? 😉
MailChimp – There's no better way to communicate with people than email. They say it'll die soon, but it's still doing pretty good and it's not going anywhere. MailChimp can be very handy for those folks who like automating repeated tasks. Tired of answering the same questions from your potential clients? Tired of asking your potential clients the same questions? With MailChimp you can set up clever automation sequences that will help your clients learn more about you and your services, book a phone consultation or answer YOUR questions. You can go crazy with personalization and make all your automated emails sound natural, as if you were sending them yourself.
Typeform – What if I tell you there's a better way to run surveys or collect feedback from your customers than good old Google Forms? Typeform makes forms beautiful again. They're so beautiful, I want to cry every single time I complete one. Take a look at this one, for example: https://theopenmic.co/value/ They're easily embeddable on your website too, so if you're looking for a better way to run surveys or ask for feedback, look no further. You can even get clever and use them to collect payments or receive requests for quote from your client. Please, use Typeform and make the Internet beautiful again. Thank you!
_________________________________________________________
Philippa Hammond
FreeAgent – This website basically runs the bookkeeping and invoicing side of my business for me. I have an accountant too but being able to see an overview of my accounts, bank statements, taxes and clients at a click has transformed things.
Highrise – Highrise is a pared down CRM tool in the cloud. I use it to keep records of key communications with clients, e.g. price rises, date we first met, specific client preferences, new projects.
Text2Speech (mac) – Sometimes it really helps to read the final version of a translation out loud, and this tool can do it in another voice if that's your thing! Simply paste your text, listen and edit.
_________________________________________________________
Jessica Lucio
Unroll.Me – If you're a compulsive newsletter subscriber like me but hate being disrupted with non-urgent emails when working, then unroll.me is for you. This handy tool creates a list of all your email subscriptions so you can unsubscribe form all unwanted emails in one go and combine non-urgent emails into one daily email.
Unroll.Me has increased my productivity a lot. I'm no longer distracted by non-urgent emails and I can now read all my newsletters at the same time and whenever it suits me.
Dropbox mobile app – I've been using Dropbox for years but only started using the mobile app about a year ago. I often check emails or social media on the phone and it's handy to save files or screenshots directly from the phone to the Dropbox.
It's also great when you're out and you urgently need to see or share one of your files but you're far from a computer. And you can make files available offline, which is useful when you're traveling without internet.
_________________________________________________________
Nikki Graham
Dragon Naturally Speaking – I'm sure you've heard of DNS and that you can save time, rest your fingers and possibly even earn more by dictating your translations. But did you know that DNS can dictate them back to you as well? Just place the cursor where you want the text-to-speech to start and say: Read document/paragraph/screen/etc.
The voice is a bit stilted and it can take some getting used to, but it certainly helps me focus on every single word I've written and stops me from delivering jobs with embarrassing mistakes (dairy/diary is a recent example).
PerfectIt – Even when we check our work carefully and read it through several times, some errors are still difficult to spot. PerfectIt is useful for ensuring consistency in a long translation. The tool will point out spelling, capitalisation and hyphenation inconsistencies, to name but a few, ensure all brackets and quotes are closed, check that abbreviations have definitions, etc.
You can even select a specific style from a dropdown menu or define your own. Trial it free of charge for 30 days.
_________________________________________________________
Dr Alina Secară
PerfectIt – As many translation issues come from inconsistent or badly authored source texts, this MS Word plug-in enables an enhanced QA for English documents (think spell/style-checker on steroids). EU, UN and WHO styleguides already built in.
CodeZapper – A plug-in which cleans tags from badly formated MS Word documents (especially an issue when working with converted PDF files) and makes their import into CAT tools friendlier.
_________________________________________________________
Dorota Pawlak
Asana – All your projects in one place! You can quickly view your tasks, to-do-lists, deadlines, calendar, project documents, etc. It's a great tool for team work and helps to keep all project conversations and ideas in one place. For example, Asana is very handy, if you collaborate with reviewers or a small group of translators and want to communicate with them quickly and avoid the e-mail ping-pong.
Advanced SystemCare Ultimate – With this tool running in the background all the time I know my machine is always safe and ready to handle any ugly surprises. It's not only an antivirus tool, but also a great performance booster. For example, you can easily get rid of all junk files that clog up your computer or quickly solve any privacy issues and voilà! You can keep working on those important and confidential translation projects!
_________________________________________________________
Giorgia Garavini
Productivity Planner – This tool mixes the Pomodoro technique with a daily/weekly planning focusing on the most important tasks. As I love getting things done, accomplishing goals or dreams and celebrate my wins, this is a tool that is now fully part of my day and I miss it when it is not around! I use the paper version, but the developers are planning to create an app, too.
Google Keep – I find this tool particularly useful for writing down ideas or for brainstorming while I'm out or to remind myself of a particular task. I can then add pictures, drawings, recordings. I can share it or invite somebody to collaborate. I can set a reminder or change the note colour. And then, once I'm back in front of the computer, every change or addition has been already stored and updated.
_________________________________________________________
Sandra Young
SketchEngine – It is an online corpus analysis tool. You can use it to create adhoc corpora for translations using its web trawling feature to identify domain-specific terminology and syntactic structures, or create your own corpus through hand-picked documents. Through the subscription you also have access to the most important general language corpora for many languages, meaning you can make evidence-based decisions about correct word use or the true meaning of words in specific contexts when working on translations.
Mendeley – Mainly used as a tool for researchers, but this program is an absolute godsend when it comes to organising the papers you gather while doing research for translation projects. You can set it to follow specific folders on your computer. It then automatically loads all the pdfs in those folders into its system, so you never have to repeat searches you know you have done before but can't find. It also allows you to annotate pdfs within the program for reference later.
AntConc – Another corpus tool! This is a free corpus tool and is most useful if you are going to create your own adhoc corpora from documents you have collected in your research. Laurence Anthony, the developer, also provides open source programs for converting these files to UTF8 text files the program can read, so for those who don't want to pay for a subscription you can use this program for researching terminology and language use in domain-specific areas for specific translations with this nifty tool!
_________________________________________________________
Laura Bennett
Trello – Trello is a great way of creating to-do lists. It allows you to set up different boards, set deadlines, colour-code different types of tasks and, if necessary, assign them to other people within a group. You can also sync it to your smarthphone. Moving a task from to-do to done when you've finished it is the best part. I have even been known to add small tasks I've already completed just so I can do this!
Microsoft Word iOS app – Clients often send me revised Word documents with tracked changes and inline comments. It's impossible to see these using the standard iPhone email app but the Word app allows you to see any changes made to the document. I wouldn't be without it for checking emails on the go.
_________________________________________________________
Emeline Jamoul
LSP Expert – This is a project management platform I've started using this month. It has specifically been designed for freelance translators (by a translator and a developer who come from… Belgium!), so it's very convenient to organize your project, pricing and services per client, etc. This is a giant change from my previous management system which consisted of Excel spreadsheets (yes, not very intuitive as you can imagine). Now, I just need to type in all the project information and voila! LSP Expert allows me to issue invoices and to get an overview of my profits. It probably has more features that I haven't explored yet, but for now, I must say I'm pretty satisfied with it and can't imagine going back to my old system!
Translators who outsource might also be interested in having a look at Linguition, which is also a project management only much more complex!
My diary: Day Designer – When 2015 came to an end, I took the resolution to be more organized both in my professional and personal lives. I found that the Calendar app of my Macbook had limitations. I started looking up diaries with one requirement in mind: to have space to jot down everything: my appointments and my projects but also my to-do lists and ideas. I finally found the one: the Day Designer. It has its price, but I personally think it's worth it: it provides you with one page per day (except on weekends, but it's really not a big deal for me), but also space for top events, things to remember, and even dinner menu! And some extras: the prettiness, the inspirational quotes on top of each page and the daily gratitude sections!
_________________________________________________________
Plamena Nikolova
Website // Twitter
IATE's Chrome extension – I believe the extension could be useful for everybody, especially those who work often with terminology related to EU institutions. A user can search for terms without leaving the page they are currently viewing.
MergeFil.es – This is a website, where you could merge files of various formats (PDF, Excel, Word, etc) in one consolidated PDF or other type of document. There is also a link for secure connection, but be careful with confidential documents.
_________________________________________________________
Patricia Brenes
AntConc – I discovered this free tool while taking a MOOC on corpus linguistics by the Lancaster University and once I got the hang of it I got hooked. The developer, Laurence Anthony, offers a series of other free corpus tools and always replies directly to your questions by email. I have written about corpus analysis tools like this one in my blog on terminology and it goes hand-in-hand with Bootcat, to convert websites for analysis in AntConc. That's 2-in-1!
Everything Search Engine – I have to say I love, love this other free tool. No more looking for hours for that file that you misplaced! This tool allows you to quickly find files and folders in your computer. A godsend when you do a wrong move and get crazy trying to find your file.
Lupas Rename – When you have a hundred files and need to rename them, this is the (free) tool to use. Not only for your professional work, but also for your personal pictures from your last vacation!
_________________________________________________________
Susanne Schmidt-Wussow
RescueTime – RescueTime helps me track how much time I spend on what on the computer. At www.rescuetime.com, you can categorize the programs/apps and websites you use from very productive to very distracting and once a week, you get a report on how much of your computer time was productive. Quite an eye-opener! You can also set goals and you are cheered accordingly if you reach them. The regular reminder motivates me to keep on the right track.
SelfControl – This little helper is my last resort when I just can't stop procrastinating. It shuts down all the websites that you put on a blacklist (like Facebook, Twitter or other dangerous time sinks) for a pre-defined amount of time, e. g. for one hour. After you hit start, you cannot circumvent the restrictions in any way, not even by quitting the app. Because sometimes someone needs to be strict with us when we just can't.
Noisli – Noisli is a simple little website that lets you choose a background noise (nature sounds, train rattle, café atmosphere, etc.) to boost your productivity. Studies have shown that you are more productive with a soft constant background noise than in absolute silence. It works miracles for me! Bonus: Sometimes I get to choose a noise that fits my current translation. For example, while I worked on a book on the Top 50 dive sites in the world, I listened to the sound of sea waves in the background. Method Translating!
_________________________________________________________
Virginia Rech
Instapaper – I find this website extremely useful when it comes to saving useful online resources, translation-related blog posts and articles, translation agencies websites that I want to check out, and the like. It literally only takes one click to save any website so that I can go back to it later on whenever I have (or schedule) some time to peruse them in more detail.
Buffer – I know most people are probably already familiar with this one, but another tool which helps me keep up with my translation-related social media activities (especially on Twitter) is Buffer. I use the free version and I find it really user-friendly and practical. I read a huge amount of translation-related blog posts and articles every week, and I like to share as many of them on social media as possible. Buffer lets me do this without flooding my colleagues' feeds all at once.
_________________________________________________________
Cristiana Cobliș
Text Expander – I have been using a text expander for over a decade and I simply could not live without it. Save text snippets or entire templates (for e-mails, checklists, etc.) and have them expand when you type a few letters. It saved me hundreds of hours of typing over the years. Many options available, pick your favourite. At the moment, I use WordExpander (freeware).
Hemingway – A great app that helps you turn your content into concise, clear and readable writing. Paste your text into the app editor, it will analyse it and highlight passages that can be improved. It provides some tips and stats copywriters and bloggers might appreciate.
User Testing – Ever wondered what people really think about your website or blog? Now you can find out. You can get an objective opinion and insights into how people want to use your website. Best of all, it's free. There is a paid option for more in depth analysis.
_________________________________________________________
Rodolfo Maslias
EU Glossaries – A search engine created by TermCoord (using a WP macro filtering excel tables) that regroups 223 glossaries published by all EU Institutions. It is one of the most visited features provided by termcoord.eu.
Dochound – A page with links to the EU institutions' websites at ONE place – a one-place shop – useful for searching documents, archives etc.
TermCoord Search APP – This small, lightweight application will allow every Android user to consult more than 8 million terms in 24 official EU languages, searching in the EU terminology database IATE in a fast and user-friendly environment. Results come filtered by reliability and it is also possible to search in a specific subdomain. This project is designed not only for translators, but for journalists and students as well. Thanks to its ease of use, everybody will be able to prompt a search in just few seconds.
_________________________________________________________
Chiara Bartolozzi
Strict Workflow – I use this Chrome extension to manage the time I spend surfing the Internet. As you know, sometimes you waste time checking your pages or commenting on fb, twitter and so on. This tool helps you to block certain websites for a set time and be able not to be distracted from them.
Yesware – I only used the free-trial version, but I know you can register and upgrade it (12$ per month). It is a tool for your email. It allows you to know who opens your emails, when and how frequently. I used it with Gmail and I'm thinking over registering. It is useful when you need to know if your (potential) clients received your messages or your applies.
_________________________________________________________
Percy Balemans
Toggl – Toggl is a very useful time-tracking tool to help you find out how much you earn per hour for each job, regardless of how you charge for it (per word, fixed price, etc.). This way, you can easily see which jobs are the best paid ones. The free version offers plenty of options to create your own custom reports.
Remember the Milk – Remember the Milk is a to do list tool which I use to plan my work. I often work on a lot of small jobs and RTM allows me to quickly see what I need to do this week and whether I can still fit in another job.
_________________________________________________________
Allison Wright
FreeAgent – At a cost of only US$20.00 per month, I find the FreeAgent invoicing and accounting tool good value and very useful. I wish I had taken action earlier on this recommendation made by Marta Stelmaszak in 2014. Apart from all the usual features one would expect, and excellent online help and support, it has an in-built time-tracking tool which can be linked to the client invoicing function. This is great for work paid by the hour, but is also an uncomplicated way to keep tabs on your productivity per job, and non-billable hours per client. The overview and reporting functions are a source of endless fascination to me, and the pleasant user interface motivate me to get my administrative work done.

Pen and paper – The low-tech tool I find indispensable is a week-to-view paper diary in combination with a handful of differently coloured pens, either for colour coding or to add to the vibrancy of the page. The choice is yours! I can see at a glance what I have actually done, and whether I have free time to squeeze in that extra job, and I use it to review "what was good and what was not" at the end of each day and at the end of the week. Having my diary on paper frees up space on the two screens I habitually use for my work. I have tried all manner of calendar apps and programmes and find the traditional diary the most effective organisational tool for me.
_________________________________________________________
Adriana Ceausu
Hievage – It's an invoice and billing software. It allows you to send an unlimited number of invoices and estimates, accept online payments, track your mileage and expenses, etc.
And yes, managing your finances in a way that works best for you, will make your life easier.
Canva – If just like me, you have another hat that you love to wear (language trainer in my case), then you know how important visual design is. Canva helps you create eye-catching social media imagery, presentations, invitations, diagrams, infographics, posters … you know, a few of those things that will make you look more professional and raise your credibility.
Podio – This flexible and easy to use workhorse is great for project management and collaboration. It helps you get more work done, is easily connected with other cloud based platforms and it allows customized forms.
_________________________________________________________
Michael Farrell
IntelliWebSearch – Yes, that's right: I wrote IntelliWebSearch myself. But I originally wrote it *for* myself: I am a professional translator and transcreator, not a professional software developer.
The tool is designed to save time when checking terminology on the Internet. It doesn't do anything you can't do yourself: it just does it a damned sight quicker. If you run into a text where the right terminology is essential and you haven't much time, it is absolutely indispensible.
NaturalReader – If you deal with marketing materials, such as leaflets, brochures, posters, flyers, advertisements, press releases, advertorials, websites and the like, your transcreation not only has to read well, it often has to sound good too. That's where NaturalReader steps in: it reads what's on your screen out loud. It's also great for picking up on typos.
_________________________________________________________
What did I tell you? Did you feel like a kid in a sweet shop? I knew it! So, my dear readers, which of these tools have you tried and loved? Which of these are on your I-must-try list? Of course, feel free to add your own recommendations in a comment, we're always open to suggestions.
Again, I would like to say a biiiiiig THANK YOU to all the colleagues who took the time to get involved in this and share their favourite tools with us. One more thing I need to say to you: