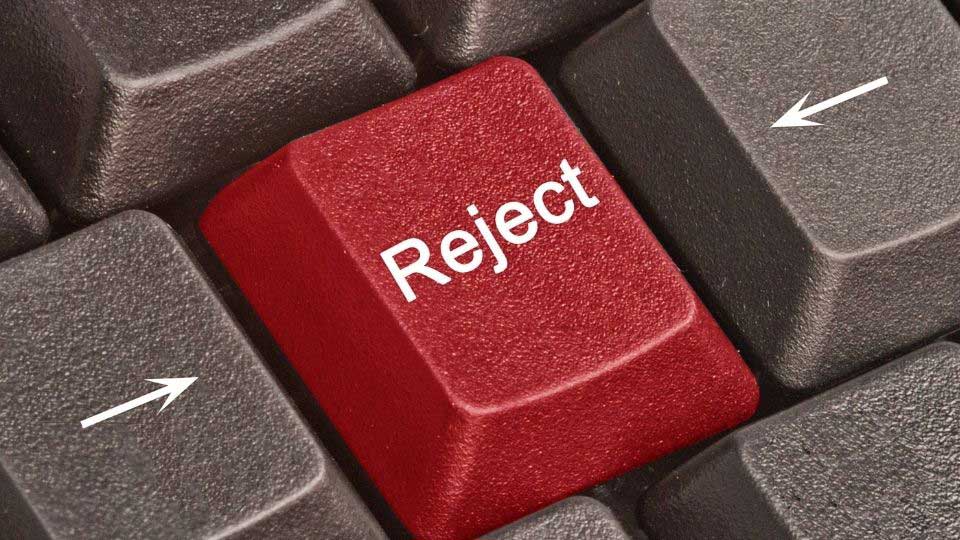 As exciting as it may sound, freelancing (whatever the field) is not always the idyllic career that people believe it to be – it can be stressful and unpredictable, but it can also bring a lot of satisfaction. It is the former aspect I'm going to tackle today.
Anybody who has promised you a glamorous future, free of responsibilities and full of opportunities has set you up for a fall. Sure, there are plenty opportunities to be had, but one must learn how to take advantage of them. How is it possible for a select few freelancers to land the most amazing jobs, while others still struggle to kick-start their career? What makes a brilliant freelancer? Some might say that freelancers are more likely to take risks, while others believe that it is their resourcefulness and communication skills that separate them from the pack.
In truth, one of the traits that set them apart is their ability to constructively deal with rejection. If you are operating on a freelancing platform (for translators the most known one is probably ProZ), you have probably already had your fair share of disappointments. Certainly, having your own website, while preferable, does not guarantee you won't face rejection. In a virtual setting, most people prefer to say 'no', or worse, 'maybe', especially when it comes to business. So what can you do to get rid of that burning sense of humiliation and injustice? Here are five sure-fire strategies that will help you deal with rejection.
1. Never Take it Personally
Rejection may be the hardest feeling to deal with, but it is also the most common. Relationships with family, friends, contractors, clients and partners present daily encounters with rejection. The fact that someone turned down your work doesn't necessarily mean that it isn't good. As a matter of fact, it might have absolutely nothing to do with merit or knowledge. People are very different, and they expect different things. Your idea might not resonate with theirs. Or who knows, the newly found client may be having a bad day. Or their budget is too low. There are hundreds of things that justify rejection, and most of them do not imply that your ideas are bad, nor that you are incompetent. This is why you should never take it personally. Even if you are faced with such a situation, try to learn from it. Don't let rejection colour your career as a freelancer!
2. Don't Stop Looking
The major difference between good freelancers and excellent ones is their ability to cope with rejection. While the former have the tendency of giving up on searches after they have been turned down a few times, the latter will persevere. By all means, take a short break and reflect on your actions. Knowing why you aren't hired is important, but don't stop simply because some random clients slammed the door in your face. Why are your proposals dismissed? Is a 50% rejection rate a high one? It may be, but it is also a 50% success rate if you look at the bright side.
3. Be Gracious and Kind
Have you ever considered what rejection means for the person faced with the decision? You can be sure that it is not a pleasant experience for the client/recruiter. It is very difficult to choose between candidates, especially when they are all good. Don't make it harder for them by acting out. Be polite, maybe add them on LinkedIn or another social network and, if possible, keep in touch. You don't know how their needs might change in the future.
4. Cultivate Relationships With your Clients
All you need is for one client to accept you. Everybody knows how one 'yes' canmake up for all the other rejections. The important thing now, is to ensure that the new client returns. The best advice that you will ever receive is to, as cliché as this will sound, under-promise and over-deliver. Communicate effectively, always respect your deadlines, and go the extra mile (I seem to have a preference for clichés today). Clients appreciate it when a freelancer demonstrates genuine interest in their project, and this way you will also be investing in long-term relationships.
5. Understand that Even the Best Freelancers are Rejected
Rejection may be hard, but this should not stop you from pursuing your career. Whenever you put your work out there, you will be faced with this risk. Even the greatest entrepreneurs, authors, web designers and freelancers of all time have had their ideas turned down at some point. That did not hold them back! Rejection is part of life, not part of failure, and success is what happens when you least expect it. With this in mind you can focus on your work, and apply for jobs until you get what you want.
Over to you now. Have you ever been rejected? How did you deal with it? Please share your tips.