If you didn't know there's a special day dedicated to translators, interpreters and language enthusiasts everywhere, that may be due to the fact that it's a fairly new celebration (and the last time we talked about this was in 2014 *gasp*). The United Nations General Assembly declared September 30 (the feast of St. Jerome) International Translation Day and this year's theme is Translation and Indigenous Languages.
Why this theme, you ask? In an effort to bring awareness to languages that are on the verge of becoming extinct, the UN proposed 2019 to be the International Year of Indigenous Languages. This is certainly a topic of utmost importance and not just for those in the language service industry.
Who could forget the story of the last two people left who speak the Ayapaneco tongue, while the two hadn't spoken to each other for decades, but suddenly settled their feud in order to save the language?! Unfortunately, that is indeed just a story – a myth Vodafone took advantage of to create the famous marketing campaign Viva Ayapaneco.
However, the truth of the matter is that there are countless languages about to go extinct. The Guardian has compiled a list of endangered languages and it's enough to skim over it to realise just how serious this is.
In celebration of this day, we've come up with a list of 10 books for you to delve deeper into various indigenous cultures and understand better what struggles they face in this day and age.
Why Indigenous Literatures Matter by Daniel Heath Justice
'Part survey of the field of Indigenous literary studies, part cultural history, and part literary polemic, Why Indigenous Literatures Matter asserts the vital significance of literary expression to the political, creative, and intellectual efforts of Indigenous peoples today. In considering the connections between literature and lived experience, this book contemplates four key questions at the heart of Indigenous kinship traditions: How do we learn to be human? How do we become good relatives? How do we become good ancestors? How do we learn to live together?'
The Oxford Companion to Aboriginal Art and Culture, by Sylvia Kleinert and Margo Neale
'This unique publication will provide a wide-ranging and intellectually challenging reference to indigenous Australian art, covering documented archaeologically traditions, art styles of the early contact period and the nineteenth century, and the development of the remarkably diverse contemporary Aboriginal and Torres Strait Islander art practices that have attracted so much attention in recent years. The Companion will draw upon much original research on art and culture in remote Aboriginal communities, and on the emergence of Aboriginal art in urban institutions, markets, and exhibitions.'
Dark Emu: Aboriginal Australia and the birth of agriculture, by Bruce Pascoe
'Bruce Pascoe uncovers evidence that long before the arrival of white men, Aboriginal people across the continent were building dams and wells; planting, irrigating, and harvesting seeds, and then preserving the surplus and storing it in houses, sheds, or secure vessels; and creating elaborate cemeteries and manipulating the landscape. All of these behaviours were inconsistent with the hunter-gatherer tag, which turns out to have been a convenient lie that worked to justify dispossession.'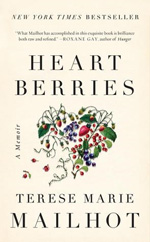 Heart Berries: A Memoir, by Terese Marie Mailhot
'A powerful, poetic memoir of a woman's coming of age on an Indian Reservation in the Pacific Northwest. Having survived a profoundly dysfunctional upbringing only to find herself hospitalised and facing a dual diagnosis of post-traumatic stress disorder and bipolar II disorder, Terese Marie Mailhot is given a notebook and begins to write her way out of trauma. The triumphant result is Heart Berries, a memorial for Mailhot's mother, a social worker and activist who had a thing for prisoners; a story of reconciliation with her father – an abusive drunk and a brilliant artist – who was murdered under mysterious circumstances; and an elegy on how difficult it is to love someone while dragging the long shadows of shame.'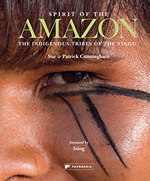 Spirit of the Amazon: The Indigenous Tribes of the Xingu (Pre-order), by Sue and Patrick Cunningham
'The book highlights the resilience of the indigenous people against deforestation, dams and pollution Spirit of the Amazon is the work of photojournalist Sue Cunningham and writer Patrick Cunningham. It is a celebration of cultural difference and a call for better stewardship of the world. Sue's stunning photographs demonstrate the spiritual and material value of the Xingu tribes to all mankind; they keep the forest alive and they protect the climate of South America and the rest of the world. Their spiritual connection to their environment and the wider Earth shows us an alternative way to connect to the natural richness of the planet, built on foundations completely different from those of global materialism.'
Our History Is the Future: Standing Rock Versus the Dakota Access Pipeline, and the Long Tradition of Indigenous Resistance, by Nick Estes
'In 2016, a small protest encampment at the Standing Rock reservation in North Dakota, initially established to block construction of the Dakota Access oil pipeline, grew to be the largest Indigenous protest movement in the twenty-first century, attracting tens of thousands of Indigenous and non-Native allies from around the world. Its slogan 'Mni Wiconi' -Water is Life – was about more than just a pipeline. Water Protectors knew this battle for Native sovereignty had already been fought many times before, and that, even after the encampment was gone, their anti-colonial struggle would continue. In Our History is the Future, Nick Estes traces traditions of Indigenous resistance leading to the #NoDAPL movement from the days of the Missouri River trading forts through the Indian Wars, the Pick-Sloan dams, the American Indian Movement, and the campaign for Indigenous rights at the United Nations.'
Handbook of Indigenous Peoples' Rights (Routledge International Handbooks), by Corinne Lennox and Damien Short
'This handbook is a comprehensive interdisciplinary overview of indigenous peoples' rights. Chapters by experts in the field examine legal, philosophical, sociological and political issues, addressing a wide range of themes at the centre of debates on the rights of indigenous peoples. The book addresses not only the major questions, such as 'Who are indigenous peoples? What is distinctive about their rights? How are their rights constructed and protected? What is the relationship between national indigenous rights regimes and international norms?' but also themes such as culture, identity, genocide, globalization and development, and the environment.'
The Sioux Chef's Indigenous Kitchen, by Sean Sherman
'In his breakout book The Sioux Chef's Indigenous Kitchen, Sherman shares his approach to creating boldly seasoned foods that are vibrant, healthful, at once elegant and easy. Sherman dispels outdated notions of Native American fare—no fry bread or Indian tacos here—and no European staples such as wheat flour, dairy products, sugar, and domestic pork and beef. The Sioux Chef's healthful plates embrace venison and rabbit, river and lake trout, duck and quail, wild turkey, blueberries, sage, sumac, timpsula or wild turnip, plums, purslane, and abundant wildflowers. Contemporary and authentic, his dishes feature cedar braised bison, griddled wild rice cakes, amaranth crackers with smoked white bean paste, three sisters salad, deviled duck eggs, smoked turkey soup, dried meats, roasted corn sorbet, and hazelnut–maple bites. The Sioux Chef's Indigenous Kitchen is a rich education and a delectable introduction to modern indigenous cuisine of the Dakota and Minnesota territories, with a vision and approach to food that travels well beyond those borders.'
Indigenous Literatures from Micronesia, edited by Evelyn Flores, Emelihter Kihleng and Craig Santos Perez
'With over two thousand islands spread across almost three million square miles of the Pacific Ocean, Micronesia and its peoples have too often been rendered invisible and insignificant both in and out of academia. This long-awaited anthology of contemporary indigenous literature will reshape Micronesia's historical and literary landscape. Presenting over seventy authors and one hundred pieces, it features eight of the thirteen basic language groups, including Palauan, Chamorro, Chuukese, I-Kiribati, Kosraean, Marshallese, Nauruan, Pohnpeian, and Yapese. The volume editors, from Micronesia themselves, have selected representative works from throughout the region-from Palau in the west, to Kiribati in the east, to the global diaspora.'
Clearing the Plains: Disease, Politics of Starvation, and the Loss of Indigenous Life, by James Daschuk
'In arresting, but harrowing, prose, James Daschuk examines the roles that Old World diseases, climate, and, most disturbingly, Canadian politics–the politics of ethnocide–played in the deaths and subjugation of thousands of aboriginal people in the realization of Sir John A. Macdonald's "National Dream."
It was a dream that came at great expense: the present disparity in health and economic well-being between First Nations and non-Native populations, and the lingering racism and misunderstanding that permeates the national consciousness to this day.'
If you've already read these or know of any other great books that address the indigenous peoples and their customs, challenges they face and yes — even their cuisine (yum!!), do comment below and let us know!
In the meantime, make sure you take full advantage of this event instead of working on a project, you certainly deserve a break (don't even try to argue with us on this)! Meet with fellow translators, attend events like the one hosted by CIOL for example, if you managed to snatch tickets in time, or simply relax with a good book and some hot cocoa.
Jump on the #InternationalTranslationDay bandwagon on social media today and see how others are celebrating as well.
Last but not least, the Inbox Translation team would like to wish everyone a happy International Translation Day and may you have a thriving career and continue to do what you love for years and years to come!