While on Twitter these days, I came across a resource with the strangest/funniest idioms in different languages and remembered a session during my studies where we had to draw some English idioms; I had so much fun that I thought I could try and do something similar.
Below you will find some pictures (yes, I made those myself 🙂 using clipart that I combined myself). I tried to illustrate each idiom very literally. Some will be really easy to guess, others hopefully more difficult.
Take the one below for example (I chose this as it is not my greatest): what do you see? A wolf and a person ('s head) in its mouth. It is an illustration of the Italian saying in bocca al lupo, literally meaning 'into the wolf's mouth'. Strangely enough, it is used to wish someone 'Good luck!' (before an exam for example). We have the exact same saying (în gura lupului) in Romanian, but it means trouble. I will explore these aspects (similarities and differences) in a different post.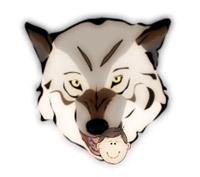 Now, in order to help a little, I will give you a clue: there are four English idioms, three French ones, two in Spanish and one in Italian.
If you have guessed any of them, leave a comment below, saying the picture number, the idiom in its original language (and which one that is), the literal translation in English and what it actually means. Or any of these. You can also try and work out the meaning from the picture, even if you don't know the idiom.
If you haven't guessed, I don't mind if you leave feedback regarding my design skills (but please be gentle, I am a linguist, not a trained illlustrator 🙂 ).