Flo Bejgu
Marketing Director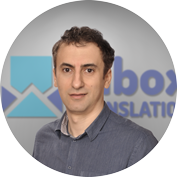 Professional profile
Master's degree in Informatics (Kingston University, London, UK, 2011)
Master's degree in M.Sc. Advanced Automation and Programmable Structures, Systems Engineering ('Petroleum-Gas' University of Ploiesti, Romania, 2008)
Master's degree in Implementing and Management of Information Networks, Information Technology (University of Bucharest, Romania, 2008) - dissertation focusing on Information Security
Other certifications: Microsoft, ITIL, CompTIA
He started his career as an IT engineer, but has moved towards the online marketing industry in the last few years. While enrolled at Kingston University, he discovered his passion for entrepreneurship and marketing. This is how Inbox Translation was born, first as a school project and then as the real thing, combining his skills and background with Alina's experience in the field of translation.
Personal profile
Tech-savvy, tea drinker, gym-goer, conqueror of the world in his free time (courtesy of video games). While not a linguist himself, he does speak a few languages: Romanian (native), English (advanced), French (which, weirdly enough, is activated only when in France).
What he does at Inbox Translation
With such a rich and diverse experience, Flo wears a couple of hats at Inbox Translation. While mainly responsible for the marketing effort, he is also tasked with dealing with the technical side of the business (due to his background in IT), as well as maintaining and updating the website, and supervising all security operations.