The season of love is upon us again, and yet again we scramble for the right gifts, the right cards, and the right way to say those three (give or take, depending on the language) simple words that have the power to change the world.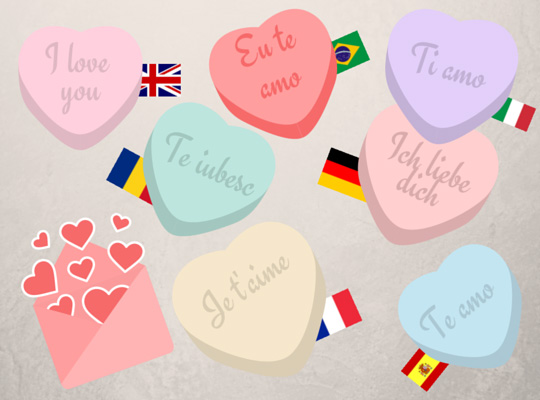 Sounds simple enough, doesn't it? After all, it's one little sentence with small words that even a two-year old can understand. But why do some people find this hard to say?
I'll tell you something that's even harder, though: saying it to a person from another culture; saying it to someone whose mother tongue isn't your own. That's what's really hard.
But before I get into that, a small note about long-distance relationships is in order.
The Curse of Love Overseas
One of the most challenging situations to be in is to love someone who not only speaks another language, but also lives across borders.
Does distance indeed make the heart grow fonder? Well, maybe in fairy tales, but not in real life. Yes, the yearnings are stronger when your love is away, but the sheer stress of managing phone calls, sending packages, keeping track of each other and what not is enough to tear the very fabric that your relationship is made from – to put it dramatically.
How do I know this? Luckily, I am not talking from personal experience, but I have translated quite a few love letters from broken-hearted lovers for whom distance put a damper on their relationship.
But take heart, because there is a way to mend that tear. It's not an original way by any means, but it is the most powerful thing I've come across since I accidentally crashed into those power lines while hang-gliding last year. Seriously.
The Many Languages of Love
In Dr. Gary Chapman's hugely successful book, The 5 Love Languages, he talks about two things that suddenly become extremely important during Valentine's Day. I'd like to explore them in some depth:
Words of Affirmation
In the book, he talks about why actions don't always speak louder than words.
When I read that, something struck me like a bolt of lightning: the fact that some people need to hear – most of all – that you love them; and they react to it like it was the most powerful drug on earth.
If you're in love with someone who speaks a language different from your own, then you owe it to him or her to learn how to say the words of love in a way that goes straight to their heart.
Now, mind you, I'm not saying you have to sound like their mum…that's a different kind of love, and you're not going to have much success in love sounding like someone's mother no matter how much they love her!
You have to think like a poet.
On Valentine's Day, what will you be saying to the man or woman you love? I hope you're not getting ready to Google 'I love you in 20 languages' and then give them a printout, are you?
I hope not; you have to think like a poet.
What do I mean? I mean exactly that – what are the words you find most beautiful in your own language that express your love for them? Is it a poem you read many years ago? Is it a famous quote that caught your attention at the time? It doesn't matter what it is; what matters is that it comes straight from your heart – even if someone else said it first.
That's what I mean by thinking like a poet.
In fact, here's a brilliant thought: what about writing a letter to your amour and having that translated into his or her language?
So you don't have any ideas apart from using Google? How about finding a translator to do it for you? Fortune does favour the brave, after all.
The advantages of using a professional translator for this job are manifold.
First of all, their deep knowledge of the other language will see your original letter being translated into its closest equivalent – with all the emotional sentiment intact.
Second, someone who merely has some of the other language (because they studied it in school some donkey's years ago or because they once visited the country) is very likely to use inappropriate words and phrases when translating your letter; what's worse, you won't even know about it until you receive this response from your lover: "How dare you say that to me! I hate you and I never want to see you again!" How's that for a slip of the tongue?
So be wise and go pro – that's all I have to say on the matter.
The second thing is possibly even more important than the first…
A Gift Given is a Gift Received
Have you thought about what you're giving your lover this Valentine's? If you're thinking you can get away with a heart-shaped box of chocolates (even Belgian ones), then I encourage you to think again.
I'm not saying you have to break your bank. It's never about the money. The value of a truly memorable gift is in the effort you take to buy it; or make it; or have it made. In truth, it's the thought that counts, so think about what's most important to your significant other and that's what you need to gift them. It may be as simple as a surprise visit from you (if you live apart) – or as elaborate arranging for ten of her friends to call her throughout Valentine's Day and deliver your love messages in parts. Or a good book (that will always win my heart *hint* *hint*)
As I said before about words of affirmation – it has to go straight to their heart.
In closing, this is what I'd like to say:
The most important gift you can give a lover is the gift of yourself: your time, your attention, your care and your…well, love, of course. Be sure to put every ounce of yourself into anything you do for your lover this Valentine's.
That is the greatest language of love.