I cannot believe it's been more than a month since my last post, but August and September have been two very busy months, so I hope I can be forgiven. However, I could not have let this day pass without a special post dedicated to the International Translation Day. There are so many things that are worth exploring and talking about when it comes to our beloved profession, but I've chosen a few and I hope you'll enjoy this post.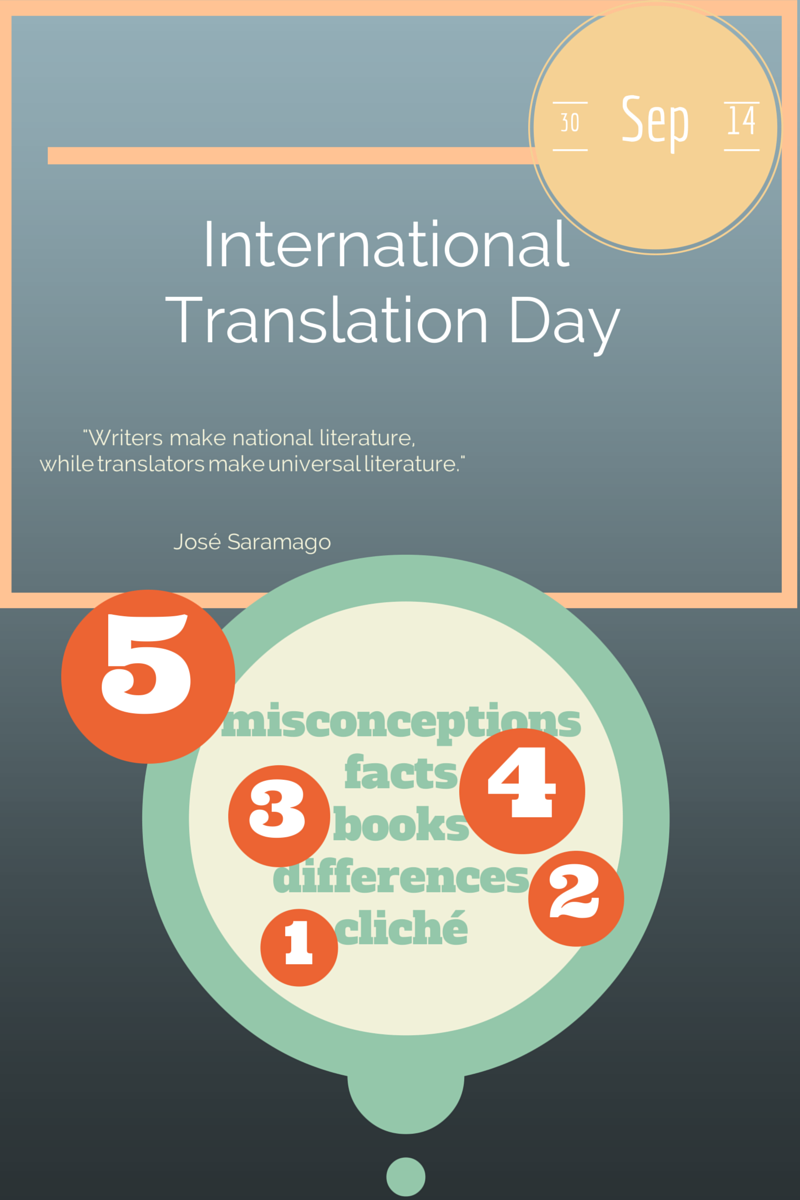 5 misconceptions about professional translation
Misconception #1: I'm bilingual, so I am as good as any translator
BIG mistake! Bilingualism is merely about a varying level of comfort with two different languages; it is not a substitute for learning to be a professional translator. True, it is the starting point for any translator, but it is not sufficient in itself. There are several examples to prove the inadequacy of bilingualism in dealing with the many ambiguities that professional translation aims to eliminate.
Misconception #2: Translators and interpreters can translate anything and everything
It is a mistake to assume that just because a translator is proficient in two languages, he or she can immediately and effortlessly translate anything between those two languages. Technical and domain-specific text is extremely difficult if the incumbent has no prior experience in those domains. The process will be slow and prone to errors.
Misconception #3: A professional translator is an unnecessary expense
Another big mistake – sadly, one that only sufferers at the hands of poor translation are privy to. In many cases, a hobby translator can do the job just as well as a seasoned one, but for the most part, a non-professional translation is guesswork at its worst. Your budget will be the least of your problems if you unleash an untrained translator on your most valuable asset – your content.
Misconception #4: Translation is simple
In three words: it is not! A professional translator should have a nimble mind capable of choosing the exact words and phrases that fit into a sentence without changing its meaning, intent or tone. This is where human intervention is most needed, because no machine can accurately (or more accurately than a human expert) translate a piece and have everything in order.
Misconception #5: Any input can give high-quality output
Absolutely not! There is no way that a translator can give you high-quality output if the input isn't superb to begin with. The only option is to first get the source material up to scratch, and provide the translator with every bit of contextual information possible. Anything less will show up in the results.
4 interesting facts about translation
Fact #1: The average translator's output is between 300,000 and 1,000,000 words per year!
Fact #2: Translation actually has a patron saint – St. Jerome. His translation of the bible, called The Vulgate, was written for the benefit of Latin-speakers in the 4th and 5th centuries A.D.
Fact #3: The word "translation" is derived from Latin, and means "the carrying from one place to another."
Fact #4: Septuagint – a translation of the Hebrew Bible and other scriptures into a form of Greek (Koine) – is the name of the first translation in the classical world, because it was believed to be the work of 70 translators!
3 books in translation
The Bible is not the most-translated book – at least not in full. The most number of languages that a whole book has been translated into is "Listen to God and Live Forever", a 2011 publication by the Jehovah's Witnesses. Here are some books from diverse categories that were so popular that translations number in tens and hundreds:
Pinocchio – 240+ languages from the original Italian
Universal Declaration of Human Rights – 438 languages from the original English, French and Spanish
The Adventures of Asterix – 112 languages from the original French
2 essential differences between translating and interpreting
There are far more differences between the skill requirements of translators and interpreters than there are similarities. There are domain-specific skills, culture-specific skills and several other skills that defy comparison.
Difference #1: The Time Element
Simultaneous interpreting (the most well-known type at least among people outside the industry) is an 'in the moment' act. Often, an interpreter cannot even begin translating a sentence until it has been spoken completely. That leaves them only a fraction of a second to begin the translation, prepare to listen and interpret the next sentence, and effectively tie everything in to the theme of the discussion. Though translators face no less of a challenge in terms of complexity, the time-frame is vastly different.
Difference #2: Awareness and Attention
A professional interpreter is often not in a position to ask the speaker to repeat themselves. That means every sentence has to be listened to carefully and only once before the output is expected in the target language. Translators, however, can read and re-read a piece of text or audio as many times as they like in order to get it 'just right.'
1 Cliché about translation
Lost in Translation
Professional translators know exactly what this cliché means, but to the lay person, it is defined as 'losing integrity while converting text from one language to another.' In fact, clichés themselves are often 'lost in translation.'
Happy International Translation Day!